In this post, we will learn How to ignore Slicer Filter in Power BI by editing Power BI interaction settings for a visual.
Also, as a part of Power BI ignore filter on visual, we will focus on the below points:
---
Slicer Filter in Power BI
In Power BI, you can use Slicer to filter other visuals on your report page by adding a slicer visual from the visualizations pane as below.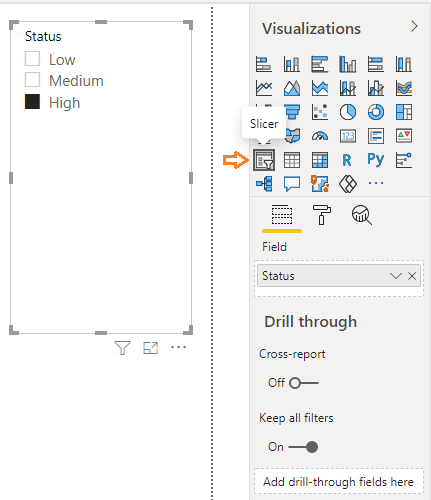 A slicer is a Power BI visual that used as an alternate way of filtering other visuals in a Power BI dashboard.
When you add a slicer to a report page in Power BI, the default behavior when checking any slicer value will filter all related visuals, as shown in the below image.

But what if you need to stop filtering one visualization or you do not need to filter other visuals in your Power BI based on the slicer, How can you do that in Power BI Desktop?
How to ignore Slicer Filter in Power BI?
By dint of Edit Interactions Power BI feature in the visual format, you can control the interactions between visuals and not filter other visuals in Power BI page.

How to edit interactions Power BI?
As we earlier mentioned, The Edit Interactions Power BI helps you to override the default filter behavior, and interactions set, on a pre-visualization basis.
To exclude a visual from a slicer in Power BI, you have to do the following:
Steps
Make sure that you are now select your slicer on your page
Now you will note that a new tab is appeared on the above ribbon called "Format".
In "Fomrat" tab, click on "Edit Interactions" to stop filtering a specific visual from a slicer.

Make sure that, you are currently select the slicer visual.
On other visuals on the same page, you will note that new options appeared to manage the filter interaction beahviour for each visual as shown below:

On the visual which you don't need to filter when slicer value is selected, click on the "None" option to ignore slicer filter on this visual.
Try now, select a value on a slicer, you will notice that other visuals have been filtered else the visual that you set its interaction settings.

---
Power BI Interactions Visual Options
In "Edit Interactions Power BI", you will notice that there are three options to manage filter behavior for other visuals as the following:
Cross Filter
Cross-filter: the default baviour for all visuals.
Cross-highlight
Cross-highlight: Instead of filtering, you can highlight your visual.
Example: when click on other visual, this viusal will not show only the filtered values, instead it will higlight it as shown below.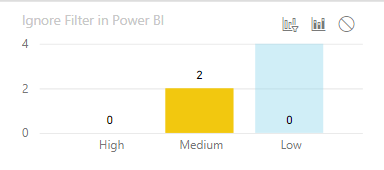 No Filter
The "None" option helps you to exclude a visual from a slicer in Power BI
---
Conclusion
In conclusion, we have learned How to ignore Slicer Filter in Power BI? Also, we have discussed the below topics:
How do you exclude a visual from a slicer in power bi?
How to Restrict a few visuals from NOT filtering
Stop filtering of one visualization
How do you not filter a visual in power bi?
How to Edit Interactions Power BI.
See Also