In this article we will discuss what are .msapp files ?, How can we use them to share App files, and how they differ from Export Package?
What is PowerApps msapp file?
.msapp file contains the definition of an app.
great way to share Power Apps files.
You can watch the bellow video for more details about the .msapp files in Power Apps.
Why we need PowerApps msapp files?
Simply we need a .msapp file if we have our Power Apps app and we want to share the app files with other users, or if we want to move the app that we created from one environment to another even from our community environment to any other environment, you will find it quite similar to what we do in Export to Package. So .msapp file is a great way to share Power Apps files. So let's know how to generate them.
How to generate PowerApps msapp file?
Open the App you want to generate the .msapp file.
From the file menu, click Save As and choose to save your app locally to your computer.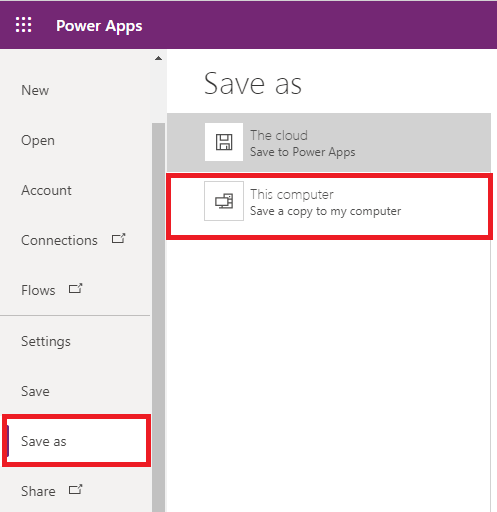 Click download button to download the file locally to your computer .

Now you have the Power Apps file that contains the definition of your app, and you can share it with others to import it and use. To do that let's know how to upload powerapps msapp files.
How to upload and use .msapp files in PowerApps?
Create a new Canvas App.
From the file menu, click Open and then choose to browse the saved .msapp file.
If you save all your .msapp files to OneDrive, then you can always access them from the web.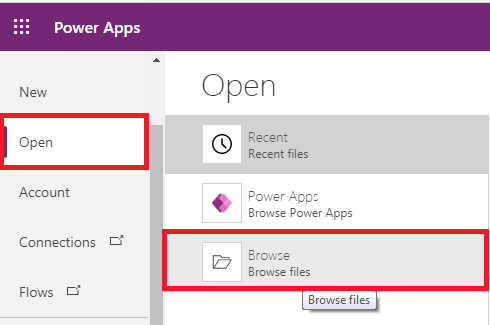 It will prepare your new Power Apps app that generated from the msapp file,so you can edit and use it.
Conclusion
There are many different ways to share a Power Apps app with other users.
You can use the share options and write the users Emails that you want to share your app with.
You can use Export to Package to generate .Zip file that you can import.
You can save your app to .msapp file and then create a new app and upload your PowerApps msapp file.
See Also