In this post, we will discuss what is PowerApps version history and how to restore previous canvas app versions and what is the live version.
Canvas App versions
Every time you save your app, PowerApps create a new version, and the owner of the app or anyone who have permission to edit the app will see this version, and the others will see the live version.
The live version is published for everyone with whom the app is shared.
You can only restore app versions created in the last six months.
How to view PowerApps version history?
Once you try to save your app, you will be asked to write notes to save the app version.
You can view the versions by the following steps:

From the make site >> choose your app and from more commands " … " choose the details of the app.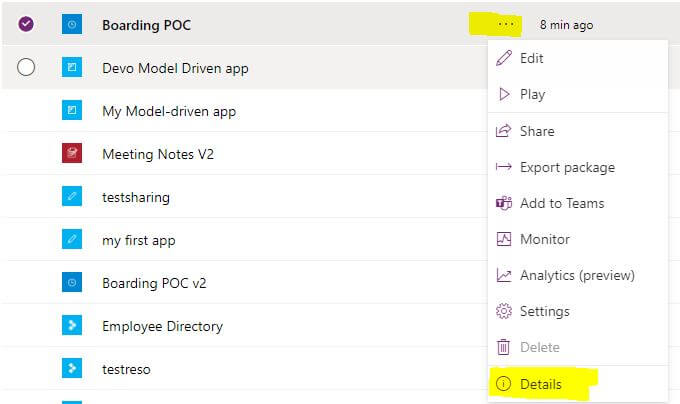 It will open for you the app details and you will find the versions for the last 6 months in the second tab as shown bellow.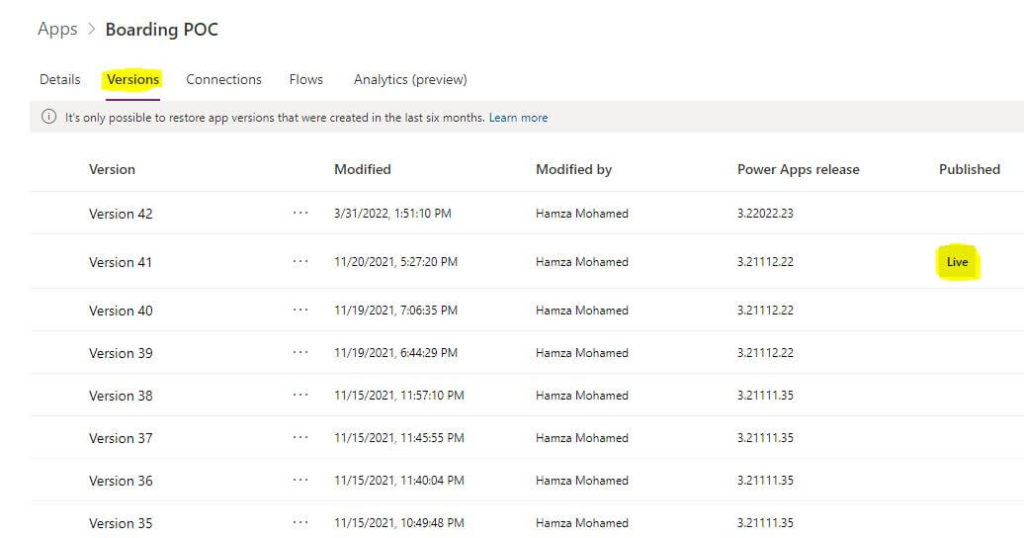 as you see one of the version is live version. this mean that it is the version that is avaialbe for all users.

.
How PowerApps restore a previous version?
You can restore a previous version in your PowerApps canvas app, as it saved for you the last six months' versions and you can restore your app to one of these versions.
Choose the version you want to restore then more commands " …" and choose to Restore as shown below, or you can choose your version and press the restore button from the top.

Only the app owner can restore a version of an app.
Confirm by selecting Restore again, It will inform you that the restored version will be saved as a new version, for example here the version that I want to restore is 40 and the last version is version 41, so it will save the version as version 42.
Now your app is restored to this version "version 42
but only you and the users that can edit the app see this version, version 42.
the other users still see the live version which here is version 41.
so in order to convert this version to be the live one you have to publish this version. and once you publish it, it will be the live version that all users whom the app shared with him will see.
Publish this version option only appears for the latest unpublished version of an app
See Also
Join us
Need Help
Have a related question? Please ask it at deBUG.to Community.