In this article, we will learn about the PowerApps ms Teams integration. As we know, Microsoft Teams has become the new work hub. We use Microsoft Teams for chatting, meeting, and sharing files and information, so it is important to learn PowerApps for Teams to know how to build our apps without leaving Microsoft Teams.
Microsoft Teams integration with power platform
Microsoft Power Platform integrates with Teams in a number of ways, including the ability to :

Embed Power BI reports in the Teams workspace,
Embed Power Apps apps as a tab or personal app,
Trigger a Power Automate flow from any message or use adaptive cards,
And add your bot created with Power Virtual Agents to Teams.
Here I give you an overview about how to integrate Powerapps with Microsoft Teams, PowerApps teams Dataverse teams Dataverse, PowerApps for Teams limitations, PowerApps teams permissions, PowerApps for teams license.

PowerApps ms Teams integration
Now in Microsoft Teams, you can create your custom Power Apps apps without writing any code inside the Teams without leaving it and embed PowerApps as a tab or personal app so your employees can directly access custom apps to help them work better together. So let's know how do you integrate Teams with Power Apps?
PowerApps for Teams license
The team's license includes Power platform that allows you to extend and personalize teams so you may create apps for them. You may create chatbots for groups.
I'm going to talk to you about teams and power platform licensing in particular what do you get with the power platform inside your existing team's license by which I mean your existing office 365 license that includes Teams and what do you get with the full PowerApps licenses.
When you create an app or bot in Microsoft Teams for the first time or install a Power Apps app from the app catalog for the first time, the Dataverse for Teams environment is automatically created for the selected team.
For more details about Dataverse for Teams, you can check the previous article to learn the differences between Microsoft Dataverse and Dataverse for Teams.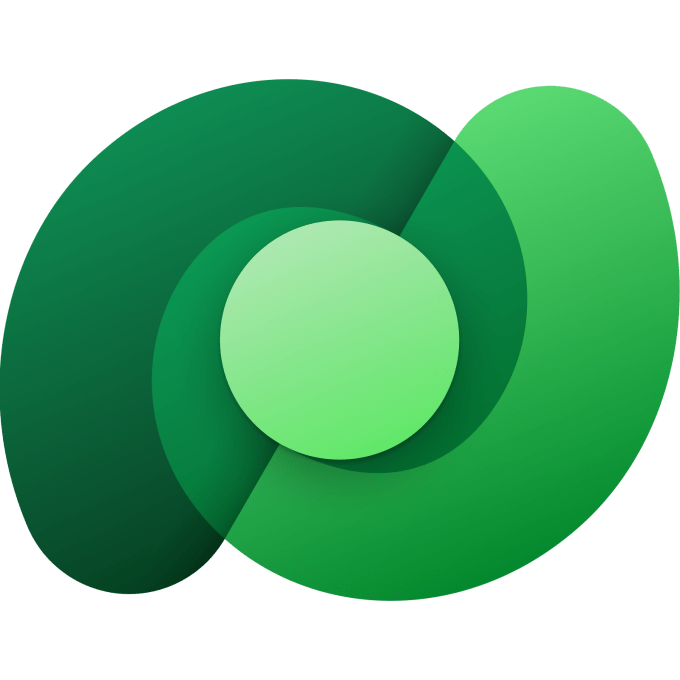 These are Subscriptions that allows you to use Microsoft Dataverse for Teams for free:
Office 365 E1, E3, E5, F3
Microsoft 365 Business Basic, Standard, Premium
Microsoft 365 F3, E3, E5
Office 365 A3 for Faculty, A3 for Students, A5 for Faculty, A5 for Students
Where you need to pay for a full PowerApps license?
You will need to get a full PowerApps for Teams license in these cases
Capacity: If you need more than a million rows.
Control: if you need Complex security.
Clients: f your Teams clients need standalone apps outside teams.
Connectors: if you want to wor with Premium connectors that always need premium license.
Instal PowerApps for Teams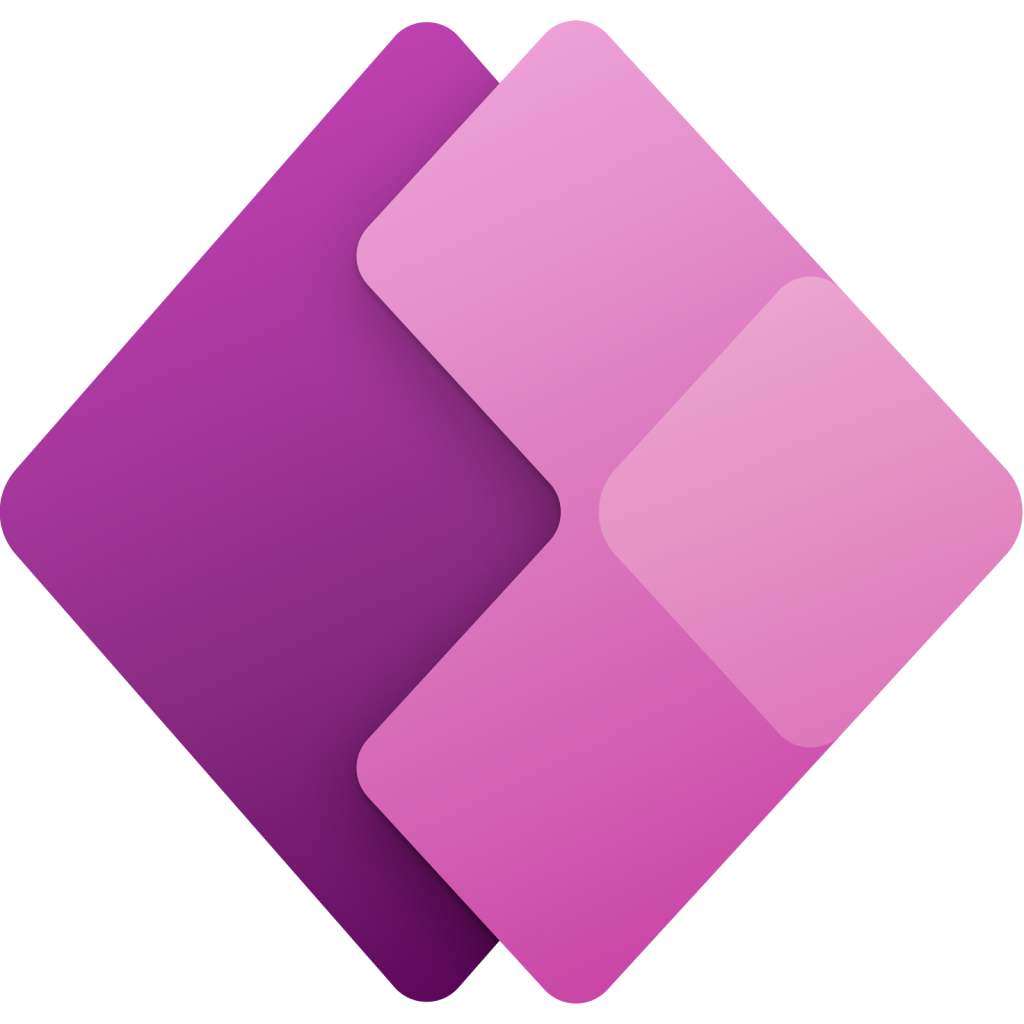 How do I enable Power Apps on my Team? to do this you have to follow these steps.
Sign up to your Teams
In the left side at the bottom of your microsoft teams you will find Apps icon, click on it then search for Power Apps and then choose Power Apps as shown bellow in the image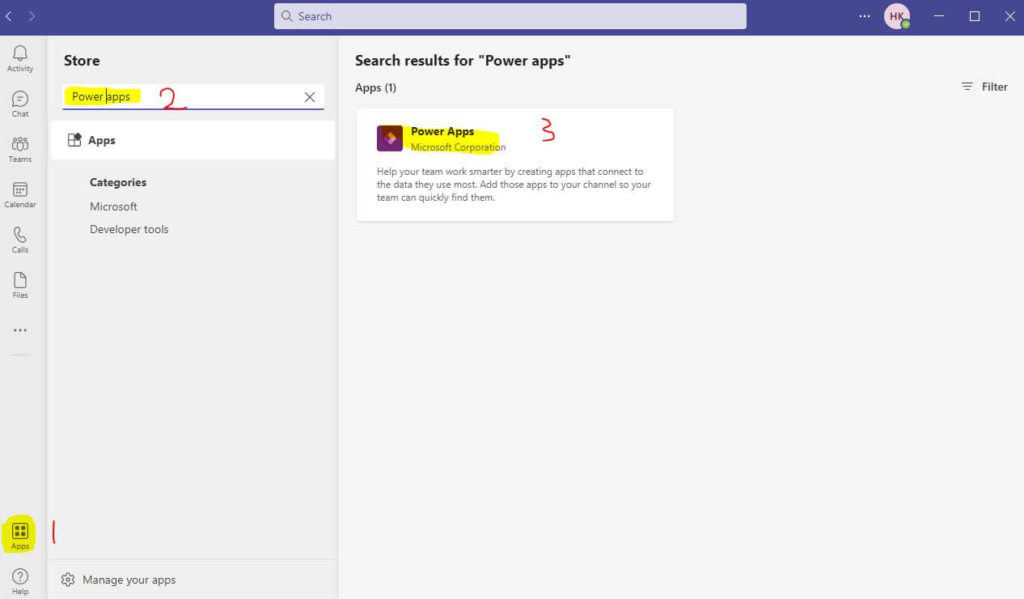 a new popup window will appeare to ask you to add power Apps to Team or to a chat.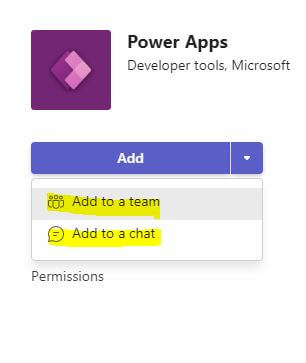 Now we will go in the first step to create your app as shown in this image

Choose your team that you want to create the app with and then click create.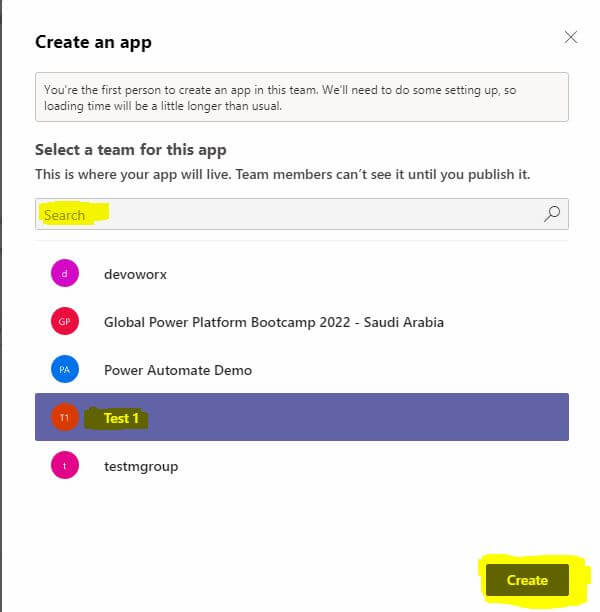 After a minute it will prepaire the PowerApps studio in Microsoft Teams and ask you to enter the app name that you want to create, so apply aname and click save.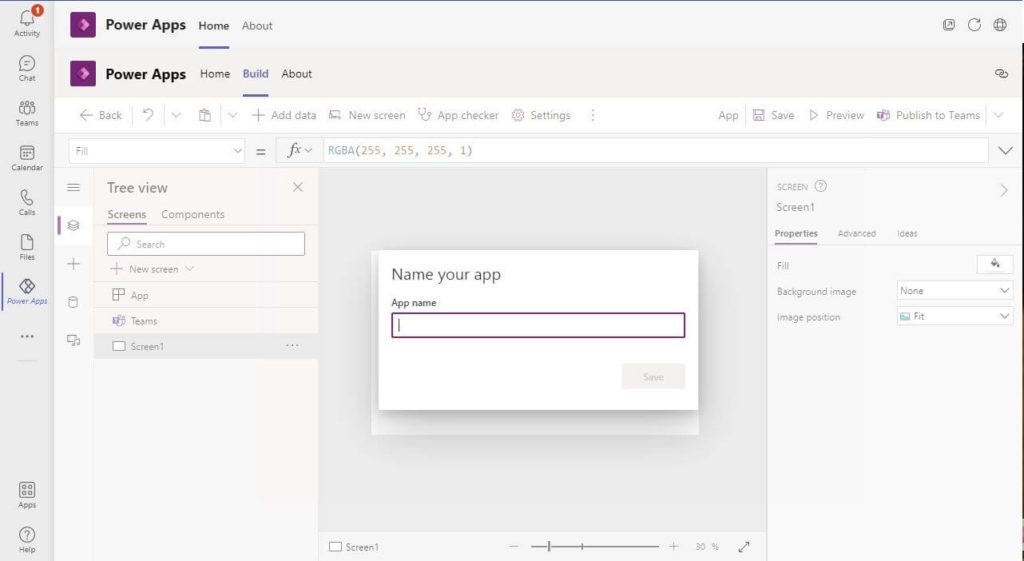 Now you can start to build your custom app for teams and start adding data as a dataverse for teams
Now we will go to the next step to create your first table in your datavese environment as shown in this image.

Click add new table and then you can search for exisisting table or create new one and begin to design your table columns.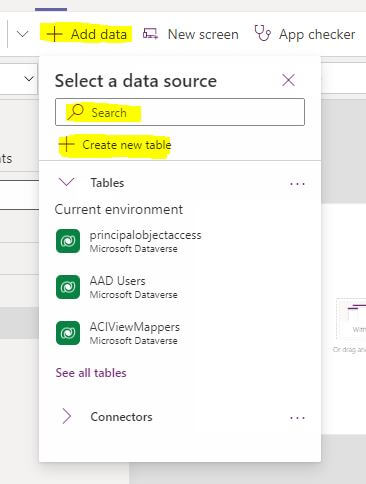 If you choose to create new table you will be asked to enter the table name to create the table for you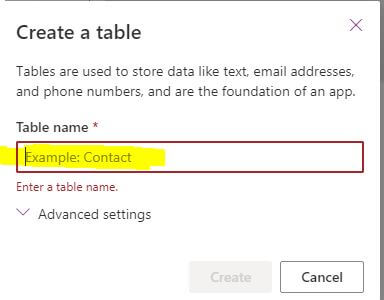 Add the columns and the rows fo your table and after you finis click close.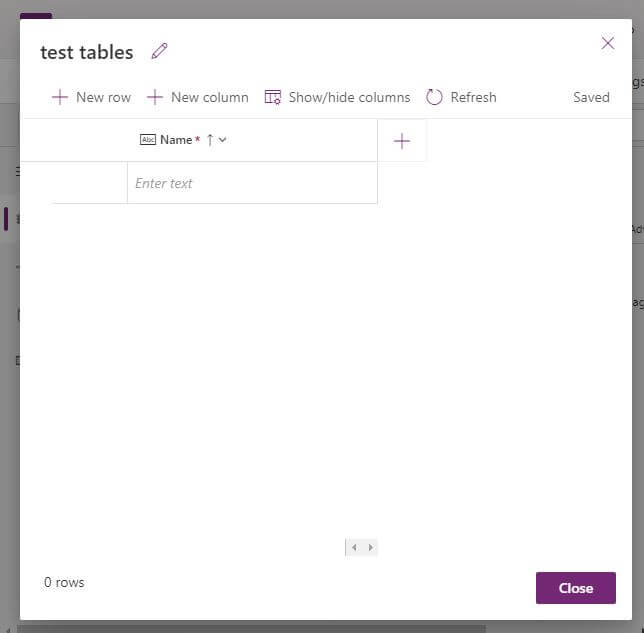 Now we will go to the next step to customize and publish your app

The last step is to design your app using your tables and publish it to your team in Microsoft Teams.

Add the controls to design your app.
The data sections that contain the tables you add in your app.
The properties of the controls
Play and preview your app.
Finally, you can share powerapps with teams, save and publish them to your team.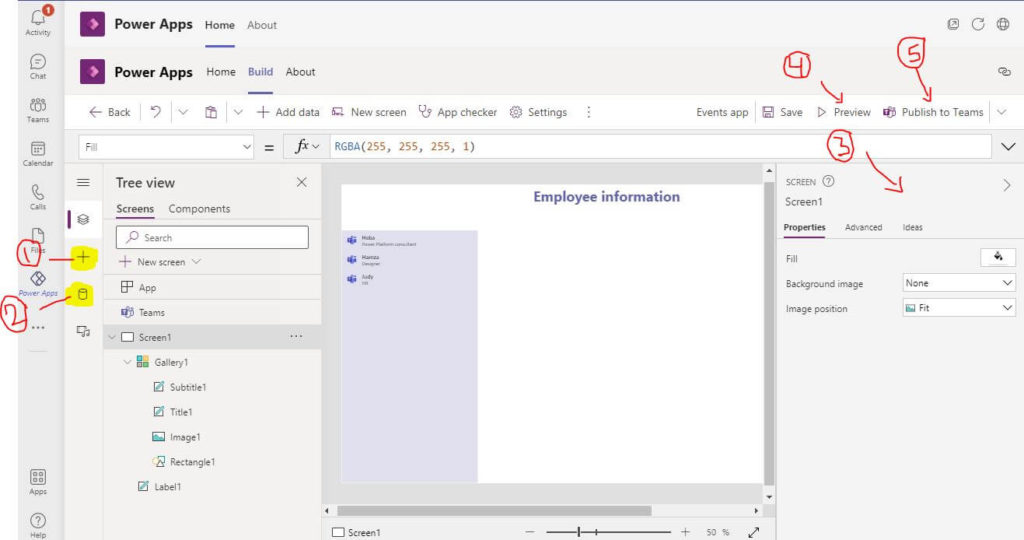 Add your app to the channel.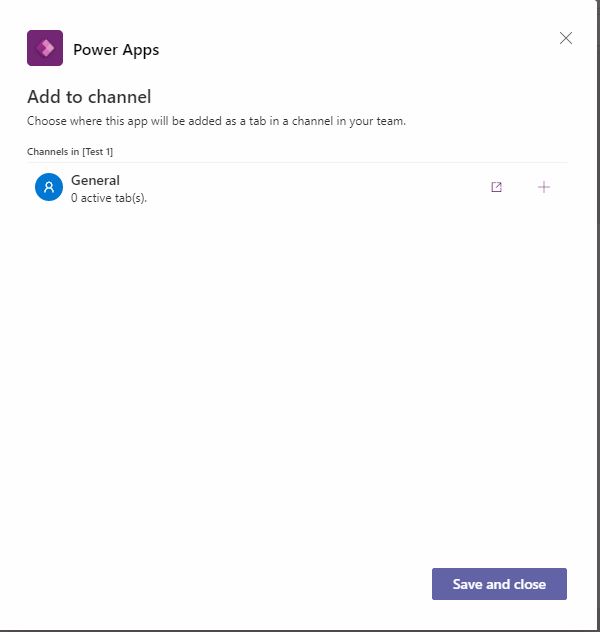 from the make site where you find all the apps, you can choose the app that you want to share with teams and click add to team.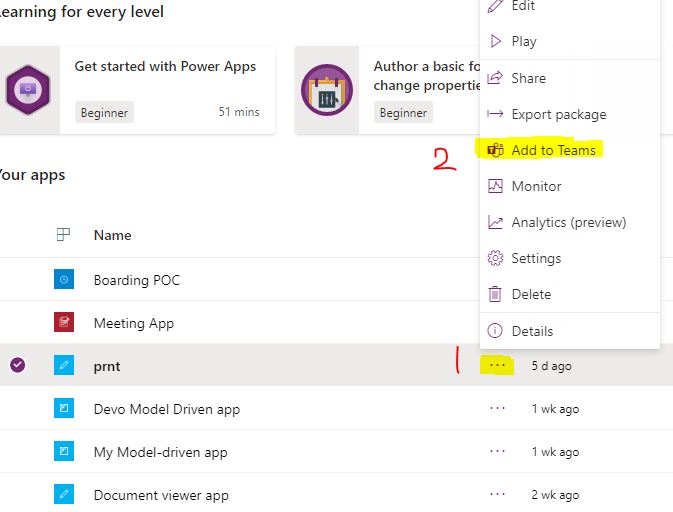 Conclusion
Some of us live in Teams all day long so it's important to integrate Power Apps with Microsoft Teams to make our custom apps inside the team and save time without leaving Teams.
SeeAlso