In this article, we will learn what is PowerApps community plan? and how to sign up for the PowerApps Community plan step by step? If you are new to use PowerApps you can check this article to know what is Microsoft PowerApps?
What is the PowerApps Community plan?
The Power Apps Community Plan is completely free, and provide you with a free development environment that never expires.
Power Apps Community Plan gives you access to Power Apps premium functionalities, Dataverse and Power Automate for individual use only, for learning and building your skills on Power Apps, Dataverse, and Power Automate.
PowerApps community plan limitations
You can't share apps, flows, connections, and other features. with any other users of your tenant.
You can't add any other user as an environment admin or maker, or to the database roles from the admin center.
It has a limited capacity as it is for individual use only not for a team.

You will have 750 Flow runs per month.
The community plan will give a 200 MB Database size.
And 2GB File storage.
If you hit capacity limits,you can purchase one of power apps plans.
For more details, you can check the bellow video in which we explained the different licenses that you can use to sign in for Power Apps including the community plan.
Who can use the community plan?
Everyone with a work email can sign up for the community plan, even If you are an existing user of Power Apps with Office 365 or Dynamics 365, you can also create an environment for individual use.
The capacity of your individual environment, if you used it or not, doesn't contribute to your company's overall quota.
How to sign up for PowerApps Community Plan?
We Explained in details in the below video how to sign up for power Apps using the community plan, how to sign up for Power Apps using the trial plan for 30 days, and how to create work email address if you don't have one.
Open the Comunity Plan URL
Click start free button as shown in the image below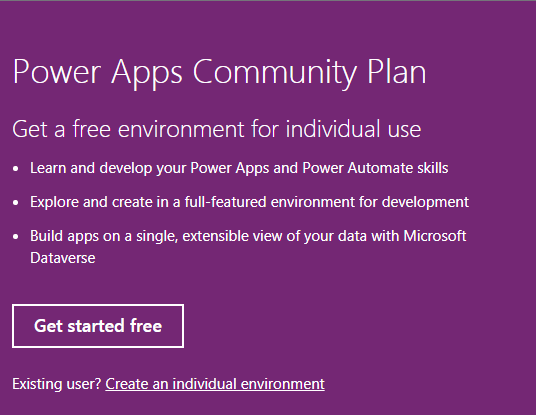 Enter your work email address

Click sign up
If it told you that you are using this email for another service, "this means that you use this email in another license like through office 365 or through one of the powerapps plans". So click sign in and continue
After you pick up your account, it will redirect you to a form in which you will choose your region for your environment, so Choose the region and click the Accept button.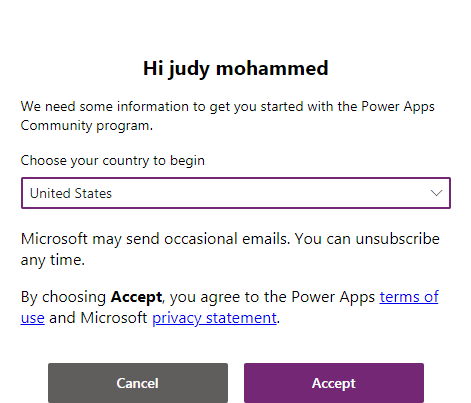 It will Prepare the Power apps Community plan for you, and you can sign in for your community plan and enjoy your free development environment in Power Apps. You can navigate among your community plan environment and the others environment that assigned to you.
Conclusion
Community Plan is a free individual development environment that everyone can use to learn Power Apps, and it has some capacity limitations as the Compunity plan is for individual use only and you cant share your work with the other users in your tenant. The capacity of your individual environment, if you used it or not, doesn't contribute to your company's overall quota.
See Also